Why is my order not going through?
By far the most common issue is incorrect or improper billing address entered. Please doublecheck that you have the correct billing address entered. International orders will only process if the credit card used is part of the Address Verification System (AVS) and must return a positive verification code. Use the form below to contact support if you would like to make other arrangements.
DO NOT REPEATEDLY ATTEMPT CHARGES IF THE PROCESSING IS FAILING. This could place multiple holds on funds in your bank or credit account. Holds or preauthorizations are placed by your bank and will go away on their own if a charge does not ultimately succeed. They are entirely on your bank's side of the transaction, and there is nothing we can do to release a hold.
How does the lead time work?
XPVs are made to order. A production lead time, or delay between order and shipment, applies to all XPV orders. The lead time estimate posted at the time the order is placed is the one that applies to the order. "In Stock" refers to us having the materials on hand to build the ordered mod; it does NOT mean the mod is in stock.
When we change the lead time, it is for new orders going forward. Orders will ship in general numerical order. There may be small order changes among local batches of mods (5-10 units) but generally all will ship close to each other.
Please note that lead times are expressed in business days (Monday-Friday). Please also note that lead time estimates are just that, estimates. They may be give or take a few days. If a delay is expected to be longer than a few days, we will post a news item.
The history of lead time announcements can be found here: Site News
Will I get a notification or tracking number when my mod is done?
Yes, when your mod order ships, the order is updated in our system with the USPS tracking number or you may receive an email directly from our shipping software, and the status is marked as "completed." You should receive email notifications for each of these.
Can I get a status update on my order?
Generally, there is no news or status information to report during the production of a mod, so we ask that inquiries not be made into the ongoing status of an order. Unless otherwise announced, it can be assumed that an order will ship during the estimated lead time window.  If you have not received any notices by 48 hours after the end of your lead time window, please make an inquiry via the support page. Include your order number in any correspondence.
My mod isn't working! How do I get it repaired?
First, send us a Support contact about the problem. We will walk you through some troubleshooting to check whether it can be handled on your end. If the mod needs to be sent in for repairs, here is our return information page.
How does changing the battery work?
The XPV is an internal battery mod. The battery is not intended to be changed when it runs out of charge, but it can be changed by the user when it no longer takes a good charge. The battery in the unit has a 2-pin connector soldered to it via a wiring harness. New batteries will have to have this harness. You can either order from us or recover the harness from the original battery, and transfer to a new battery. Please be careful when soldering to a lithium-ion battery, or have someone do it that knows how.
This is what the battery and harness look like: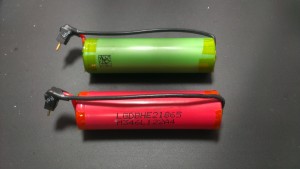 Can I get a battery installed that you do not offer? Will you offer battery X?
We are constantly searching for the best batteries for the XPV applications and make an effort to offer them so there is no guesswork involved. We are of course limited by availability. Generally if a clearly better battery comes on the market, we will eventually get them in stock and change the options over. We can also install a battery that is sent to us, if we do not offer it, however we will not install batteries that do not meet constant discharge rates of 7A for DNA-20D mods, 11A for DNA-30D mods and 15A for DNA-40D mods. We reserve the right to not install any battery on our discretion.
Do you wholesale or have quantity discounts?
At this time we do not wholesale or have quantity discounts. If either of these things changes, we will make an announcement.
Do you send out mods for review?
At this time we do not send out mods for review. All produced mods go to paying customers.