Description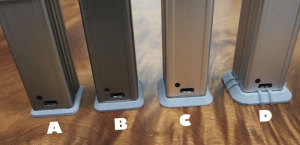 ModFeet are bases that increase the stability of XPV mods when placed on desktops or flat surfaces. They are available in 2 options:
ModFoot 3-pack. Includes three different sized bases. 28mm (A), 30mm (B), and 32mm (C) bases are included. These are intended to remain pocketable while sttacked.
BigFoot. 36mm base (D), intended to provide additional stability at the expense of portability.
All feet are available in black or grey/alumide. Bases A-C are attached by removing the bottom plate of the XPV mod and placing the base between the bottom plate and charge board mount. Base D goes below the bottom plate. ModFoot orders come with four 10mm screws to replace the existing bottom plate screws.