Current estimated lead time for XPV orders
20-25 business days from payment. See the FAQ for details on how the lead time works.
Additional delay update
The past couple of weeks have been difficult as we dealt with transitioning our design to the new connector, which so happened to coincide with a large spike in orders in the production queue. Through this week the additional delay is 4-5 days. At the end of this week, we expect the additional delay to be eliminated as there was a lead time update which accounted for the additional order volume at the time.
XPV ordering is: OPEN
As of this posting, XPV ordering is open.
Announcing ModFeet!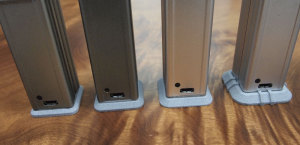 Today we launch a new accessory for XPV mods, the ModFoot. It is meant to provide a more stable base for XPV mods when placed on desktops or other flat surfaces. There are two options, a 3-pack of plain feet and a BigFoot model. Click here.