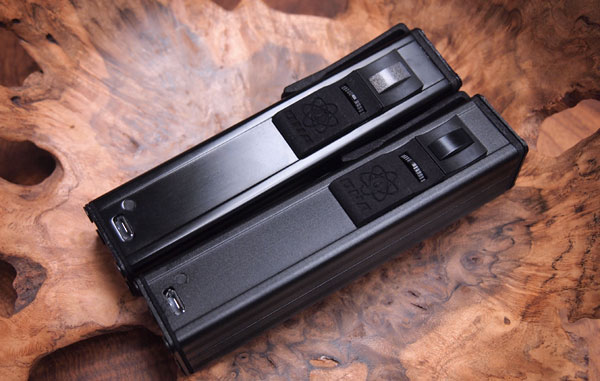 Current estimated lead time for XPV orders
15-20 business days from payment. See this page for details on how the lead time works.
Additional delay update
At this time the additional delay is resolved and there is no additional delay beyond the lead time estimate.
XPV ordering is: OPEN
As of this posting, XPV ordering is open.
New cases in!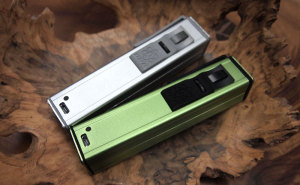 We have received a new shipment of cases. These are designed to work natively with the new 510 connector, so we are back to the standard-thickness upper spacers and clip spacers. Case length remains 110mm.
We restocked all colors except silver, which we will be phasing out. We believe grey is close enough to silver that we do not need to stock both colors, and we did not receive feedback from anyone wanting to keep both. Any silver cases on order are of the older design and will continue to ship with the thicker top spacer. As usual, we will accept color change requests, please try to let us know by the end of this week.
Gloss black now available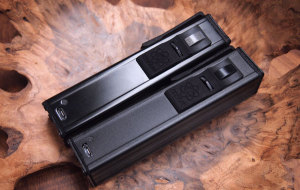 We have added gloss black (left in photo) to the color options. All cases prior to this addition have had a matte finish; gloss black is a smooth, polished finish. It is a handsome finish. For cases already ordered with black color, we will assume matte black unless you contact us to change.
The new new blue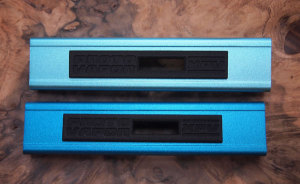 The current batch of blue cases is closer to the original lighter blue. In order to make sure the distinction is understood, we are calling this color "Ice Blue" (top in image) as opposed to the immediately previous "Royal Blue" (bottom). We are completely out of royal blue cases, so any blue case that has not been shipped yet will be ice blue. If you would like to change colors, contact us with the change request.
Black screws now shipping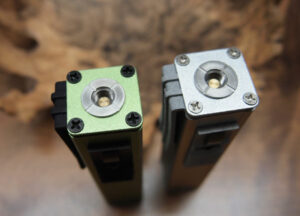 We have finally secured black screws that are designed correctly for our cases and are now using them standard on all cases with black trim. Going forward we will use black screws with black trim mods, silver screws with alumide trim mods. If you have a specific request to get the other color on your order, please write the request in the comment section of your order. For already-placed orders, contact us.
For existing mod owners, black screw sets can be ordered.
More about screws
For any mods with the new 510 connector that shipped prior to 7/15, we have been using a variety of different top screws in an effort to find the best match, as the original batch of screws we received from our vendor were very poor quality. We have finally received matching, good quality screws from our vendor. For these specific orders, we will ship a new set of screws free if you do not like the screws your mod came with. Contact us with requests.
About the new 510 connector
So far we have heard of relatively few issues with the new 510 connector. We hope it is working well for everyone. The connector has a depth range of approx. 3.5mm to 5mm. The relevant measurement on an atomizer is from the shoulder above the atomizer's 510 threading to the tip of the atomizer's positive contact (see image). This covers a wide range of atomizers, but atomizers with very long connection depth, especially those with long positive contact pins, may not screw down all the way until the shoulder contacts the connector. It is best if the shoulder does bottom on the connector, so you may want to adjust the center pin on the atomizer if it is possible. If it is not adjustable, it may be possible to reduce pin stick-out by filing down the pin itself or the insulator beneath the pin (usually delrin). Or you may want to use a different atomizer.