New mods announced
We are proud to announce three new mods to update our lineup to make use of Evolv's latest boards. These mods represent the continuation of our design and functionality philosophy and will be on a short introductory pricing period until production can be ramped up. Quantities will be limited during this period.
Silo LE mods listed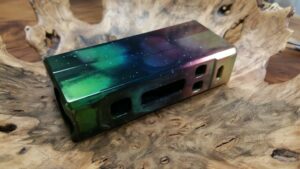 As mentioned in the last update, we have posted all of our available Limited-Edition anodized Silo mods here. There are a couple of completed mods available as of this writing but due to the time constraints of meeting the FDA deadline, many mods have a lead time. Please be aware of any potential lead time when ordering. Due to FDA regulations we may not be able to do custom runs like this again.
Other DIY products
We are offering a few additional DIY products:
Evolv board (re)stocking … soon
We are currently short on DNA-200s, but we expect resupply shortly. Supply of DNA-60 and DNA-250s remains extremely limited. As they trickle in we may post some boards for sale, so stay tuned. DNA-75 boards remain in stock and ample supply.