Evolv clears the table
So, perhaps you've seen this:
Evolv today with the help of esteemed vaping personality Phil Busardo announced its latest product, the DNA 40D with temperature protection. We were lucky enough to be involved in the beta testing for the new device and we can say with confidence that this technology changes vaping as we know it on a fundamental level. This isn't just evolution, it's revolution, down to the very building blocks of vaping.
Just about everything we know about vapor technology is now obsolete. The ability to control temperature is a feat several orders of magnitude more sohpisticated than anything currently seen in vaping, and we can tell you it absolutely works! This is true innovation, and on balance Evolv is without question the most innovative company in the industry.
Protovapor is all-in
At Protovapor we are big believers in Evolv's technology and business model. While we have felt the pinch from cloning and the wattage war, we always knew Evolv's product would be worth waiting for. We were right. This is what everyone has been waiting for … even if they don't know it yet!
Announcing the Protovapor XPV-DNA40D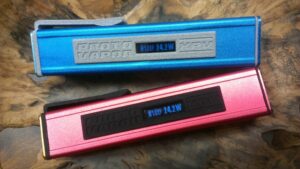 We will be releasing DNA 40D-equipped XPV mods on the official launch day, October 14. We have boards and materials on hand and are ramping up for production to get these mods into as many hands as possible. We will include some sample Ni200 wire so users will be able to hit the ground running. We are also working on a temperature control primer of sorts, based on our experiences with the new technology. We will also have Ni200 wire available, and most likely some retail DNA 40D boards.
How will this affect lead time? It depends. As of right now, it is at the minimum 1-3 days. We are gearing up to meet expected additional demand in the early days after launch but it's entirely possible demand could start putting pressure on the lead time again. As this is a new product launch, and a revolutionary one, we will probably accommodate some lead-time increase if it is needed. We won't let it get as high as in the past, however.
We will post an announcement when the mods are available for order on Tuesday. Stay tuned!
Also since the last status post was just yesterday, here's a reminder:
Matte black cases restocked
We have finally received our shipment of matte black cases. They are back in stock and available.
Better 510 upgrades
We have come into a number of matte black case halves which allow us to do the 510 upgrades without the thick top spacers. For a limited time, any 510 upgrade ordered for shop installation can be done with these case halves at no extra charge. For black cases it is automatic, and it can be requested for any other color of case. We also have a limited number of slight blemish case halves in grey, ice blue, red, gold and green, which can also be requested in a shop 510 upgrade. Yes, two-tone cases!
Speaking of two-tone cases
As an experiment and in conjunction with the DNA 40D launch, we will work with customers to deliver two-tone cases. The options for color areas are: case front (button side), case back (screen side), top and bottom plates. Here are the scenarios:
If you order 2 mods, you can mix and match colors any way you like between the two.
If you would like a black case front with any color back, it is available.
If you would like a grey, ice blue, royal blue, red, gold, or green case counter color, we have slight blemish case parts available and will supply them in order from best to worst.
We do not guarantee we can always do the two tone, but we will do our best. Select the color of the case back (screen side) that you want, then write what else you want in the comments on your order. We will contact you to finalize.