XPV production delays resolving
It has been a while since the last update. We have been kept intensely busy with the first run of XPV DNA-200D mods. Over the last few weeks we have been dealing with illnesses in the office, which had put production back significantly. At this time we have cleared out almost all the backlogged orders and will be current within a few days.
XPV colors restocked
We are now fully stocked on case colors for XPV DNA-200Ds. This run of colors is slightly darker and richer than usual. As we run out of pristine cases, as you may have seen, we offer blemished cases in the same colors for a discount. If you would like to order blemished but don't see it listed, Contact Us. Order here:
XPV DNA-200D XC official announcement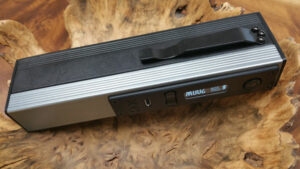 Looking over the last update, we mentioned we would officially announce the XC model soon and never did. We are happy to officially introduce the XPV DNA-200D Extended Capacity model, a 2600maH version of the XPV DNA-200D. It is the same dimensionally as the original model, but is 50mm longer. It is powered by 3x 18650 batteries. Order yours here:
XPV DNA-200D Extended Capacity
Genuine Evolv 510 connectors now available
We are now carrying Evolv's 510 connector, which is a heavy-duty 22mm connector specifically designed for the needs of super high wattage temperature control applications. We will be adding backing nuts and ring terminals shortly.
New products available
We have added several more new products since the last update. Here is a list:
Smoktech TFV4 Tank Kit – Additional coil head packs will be listed soon.
JST 4-pin socket (3S battery tap) for DNA 200D – Straight and 90 degree.
#0 Self-tapping screws – Sized to attach DNA-200D boards to plastic mounts.
LG 18650 HG2 3000mAh 20A battery – New top of the line 20A battery from LG.
Samsung INR18650-22R 2500mAh 20A battery (blue) – Get your smurf on.
Sony US18650VTC5 2600mAh battery – Back in stock after a long hiatus.
Sale products
A non-exhaustive list of discounted items, focusing on special sales:
Aspire Nautilus/Nautilus Mini Tank Clearomizer Kits – CLOSEOUT!
Smoktech GCT Gimlet Cloud Tank w/ Ni200 coils – CLOSEOUT!
Protovapor Ni200 Nickel 510 Cartomizers — EXCLUSIVE! – 20% bulk discount.
Upcoming
As you may have heard, a severe screen shortage has hit the DNA-200D ecosystem and supplies are dwindling fast. We will strive to keep the boards in stock as long as possible, however quantity price breaks will go away temporarily as stock trends toward 0. Price breaks will be restored when we restock.
Protovapor will be on vacation 11/26 – 12/4. During this time the shipping schedule will reduce and may pause entirely. Lead times for mods will be adjusted accordingly as the date approaches.