Current lead time
27-32 business days from payment. See the FAQ for details on how the lead time works.
Shipping delay shortened
As of today we have actually caught up on the 3-4 day shipping delay incurred in the last board shipment. However since we are still right at the edge, we will keep a 1-2 day delay announced; we will hopefully be able to do away with this entirely as of the next update.
XPV ordering is: OPEN
Shortly after this post goes up, XPV ordering will be open.
Free shipping on DNA-30D boards
For a limited time, shipping is FREE on DNA-30D boards (retail box)! See listing for coupon code.
Connector preview
We have secured the deal on our new connectors and are very excited to get them integrated into the product. As mentioned this is one of the most significant improvements in the design we have ever been able to do, and we are hoping it might help with production rate as well. It should also reduce warranty/service inquiries and repairs.
Here is a preview of the new connector in a testbed installation. As you can see it is a stainless, low-profile main body, and it uses a brass spring-loaded center pin. In our testing all of our atomizers connected and fired with no adjustment needed. This connector is a collaboration with another well-known — or soon to be well-known — producer, and is exclusive to Protovapor.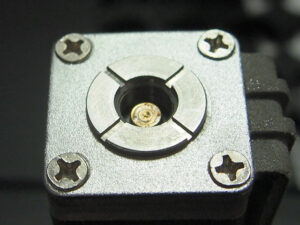 We hope to be installing this connector by sometime next week. It is not 100% drop-in so we have to do a little figuring before we can release it.
Connector opt-in update
We have received quite a few opt-ins from people who are far outside the affected dates. Again, only if your mod was ordered around April 20th or earlier (certainly no later than April 25th), do you need to opt-in for the connector. After that, we are confident every mod will be having the connector installed by default. If we need to update the cutoff date, we will announce, but for now, if you ordered for example any time in May or later, you DO NOT have to opt-in, you will get the new connector by default.
Case reordering
We are running low on several case colors so we are working on securing the next batch. We hope to add another color to the lineup if possible, though we may phase out either grey or silver from the lineup as they are very close to each other. Comment on this post if you feel strongly about that.